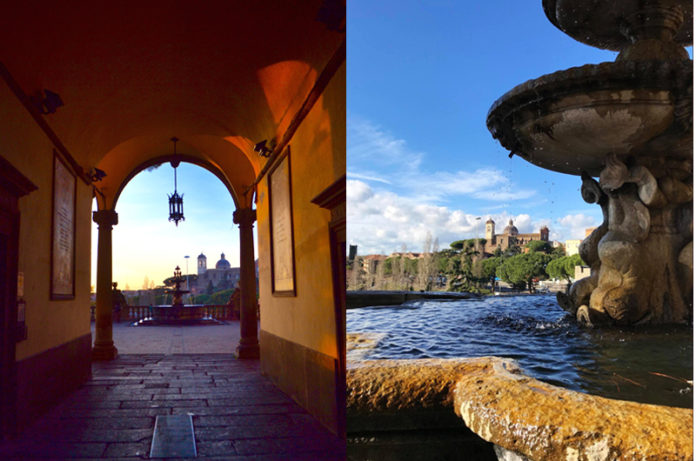 Ciao amico mio,
Do you ever feel like you must pinch yourself to make sure you're awake because
something seems too good to be real? That's how I feel ALL the time here in Viterbo – it's like living in a fantasy, every single, little thing is absolutely fantastic and I can't get enough of it. The archaic wall encircling the medieval history of the city contains the kinds of sites and experiences you would find in a book or a movie. Cobblestone streets leading down alluring alley ways run rampant within the city; medieval and renaissance style churches reside on nearly every corner with each turn you make; charming cafes line the streets, beckoning you inside with irresistible smells of fresh caf è , cornetti (croissants), and other tempting treats; and nearly every piazza is occupied by a picturesque fountain, playfully spouting water that the wind occasionally sprays in your face. I'm certain you're picturing Viterbo now, but nothing you imagine will compare to the delightful reality that I live in now.
My first night here, Viterbo was alive with the bustling of hundreds of people along its
narrow streets, festival lights illuminating the cobblestones below. A magnificent Christmas tree consisting of luminous lights towered above Piazza del Plebiscito, creating an enchanting glow on the surrounding medieval architecture. As we made our way down the winding alleys, suitcases trundling behind us, catching on each and every uneven cobblestone their wheels so much as grazed, you could hear the delightful exclamations of children and joyful greetings made by the local Viterbese as they meandered amongst each other. We must've passed at least a dozen restaurants, each one with even more delicious aromas wafting from it than the one before—the mouthwatering kind of smells where, when you breathe in through your mouth, you can almost taste the food. You could feel that the city itself was excited, excited to be so vibrant, buzzing with festival spirit. It was a wonderful first night in the city I get to call
home for the next four months.
Now, I know you've tasted olives back home and enjoyed them, but you haven't really
savored an olive until you've bitten into one standing on Italian soil. When your teeth break the skin of the olive and the juices flood your mouth, entirely overwhelming your taste buds because nothing that you've ever eaten in the entire world can compare to this olive—mamma mia!—it's quite possibly the greatest moment of the entire four months in Italy. But the olives aren't the only food I will remember, and most certainly crave, after my time in Italy comes to an end. The local pizzerias, and you can find one on nearly every street, do a fantastic job of tempting me each and every time I pass by one. Let me assure you, it doesn't matter if you've just had a piping hot slice of pizza from the pizzeria up the street, you turn around the next corner and boom—another pizzeria, and suddenly you're hungry all over again. Just to be clear, the pizza here is not like the pizza back home in the U.S. in fact, it's far from it. They put potatoes on their pizza! And zucchini! I also tried a slice with anchovies on it and I'll be honest, while it wasn't my favorite, I am open to having it again because even the salty little anchovies
taste good in Italy.
Beyond piazza del Plebiscito, perhaps fifty yards further, is Poste Italiane, the post
office. I walk here frequently because every time I travel to a diferent place, I buy a postcard ​and I send it back home to la mia famiglia. I've grown quite fond of the walk to Poste Italiane and the streets have become familiar to me in a comforting, homelike way. Cafe San Sisto is on the left as you cross the square just after entering inside the wall and further down, the small kebab place followed by the cafe that is also a library, and the pizzeria on the right with the friendly pizza man, each of these places contributes to the happy sensation I experience as I meander down the street. Even the uneven cobblestones, that I inevitably trip on every single chance I get, have become endearing to me and it wouldn't be the same Viterbo without them.
Often times, after far of travels, galivanting through some other European country or
another, we arrive back to our sweet Viterbo quite late on Sunday nights. On these nights, Viterbo is quiet; the fountains murmur softly as if they know the Viterbese are asleep and the cars that normally zip up and down the streets are parked for the night, as if they too are getting their nightly beauty sleep. As we make our way home, occasionally glancing up at the gleaming stars above, I have never been so grateful for my beloved Viterbo. I don't think there is any other place in all of Europe that I would rather arrive home to after a long weekend of traveling.
And even though Viterbo is only our home for a few months, it will always be our Italian home and the origin of memories that we will cherish forever.
Ci sentiamo presto,
Lauren.
Lauren Graziano è una studentessa americana USAC che studia all'Università della Tuscia per il primo semestre di questo anno scolastico. E' cresciuta alle Hawaii, ma ora vive in Colorado e studia in una università nello Iowa, dove ritornerà il prossimo autunno, dopo il suo semestre a Viterbo. Ama viaggiare, leggere, scrivere e uscire fuori, sia che si tratti di escursioni, sci, nuoto o altre divertenti attività all'aperto.