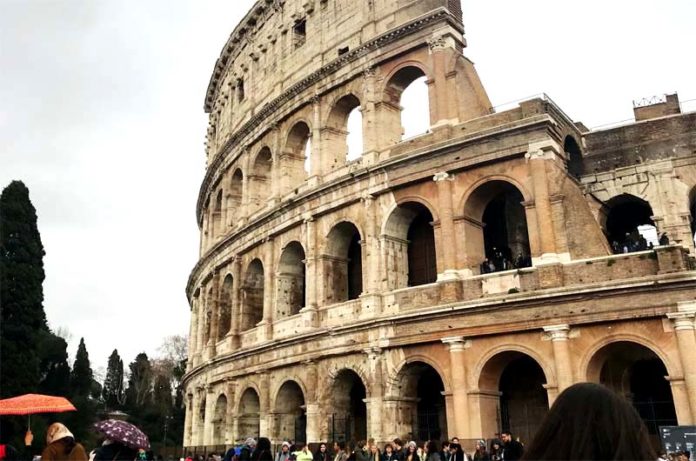 Rome is everything people say it is and more. The phenomenal historical monuments and the bustle of the local Romans and visiting tourists all add to the charm of the ancient city. It captures you, and even though it's a big city with thousands of shops and a pizzeria on every corner, it has a way of drawing you in and making you feel like a part of its chaotic existence. The Colosseum looms over the countless tourists milling about below, taking photos to document the momentous historical landmark. Hundreds of people hover about the Trevi Fountain, throwing coins in and making wishes; and not far off, even more flock to the Spanish Steps stretching beyond the Piazza di Spagna, up the slope to the remarkable Trinità dei Monti church above.
We spent only a day in Rome but what a day it was. I was afraid to blink in case I missed something important, an exciting memory or brilliant moment that I could share with family and friends back home. There are specific moments when I travel that are a big part of what makes me adore exploring new cities and doing things I've never done before. Often, they happen at the strangest moments when I least expect them to, when we're doing mundane things that I wouldn't think twice about. Riding the metro or a train, walking down the street, sitting in the airport, moments that seem all too ordinary until something amusing or sensational happens and it suddenly occurs to me that this exact moment is one I want to remember and describe to the people waiting for me at home. Rome was just as amazing as I hoped it would be and it was full of seemingly ordinary moments like these that have turned into fantastic memories.
Standing at the top of the Spanish Steps, our legs burning, panting like there wasn't enough oxygen in the world to satisfy our lungs, we took in the view below. So many people, sitting, standing, climbing the steps as we had just done, all here to see the same thing. And then at the top, the Trinità dei Monti church majestically towering above it all. One of my friends and I split off from the rest of our group to get a quick glimpse of the inside of the church and we had to climb one more set of stairs to get to the door. I remember these stairs because we tripped up them more than we walked, laughed as we did so until we couldn't breathe and then shushed each other as we entered the peaceful church. The adventure in Rome didn't end there; rather, it went on late into the night leading to much more tripping, laughing, and an exceptionally delicious panino.
We exited the small bar we'd spent the last hour in, embarking on the thrilling journey down the street to a nearby club. Rome was just as entrancing at night as it was during the day despite the slight drizzle of rain that showered us. Somehow the night had slipped away and the hour was late as we fiddled around in the line for the club. Between the Italian and English conversations going around, flavorsome smells drifted from a nearby food stand on the next street. That was it—as soon as I smelled it I was absolutely buying whatever food this stand was selling. And that was how I lucked out and devoured what must've been one of Rome's most superbly delicious panini. Certainly a grand moment in Rome that I wouldn't be forgetting.
I envy those who are lucky enough to live in this beautiful metropolis where the ancient Romans once walked. My time in Rome was much too short and I eagerly look forward to the next time I will wander its streets. The places I visited were only mere parts, the city itself being so vast, overflowing with people and illustrious sites. It would be impossible to experience it all in a day and relive it as though it was Rome in its entirety. And so, we will return, again and again, to encounter every legendary spot and all the less notorious spaces in between.